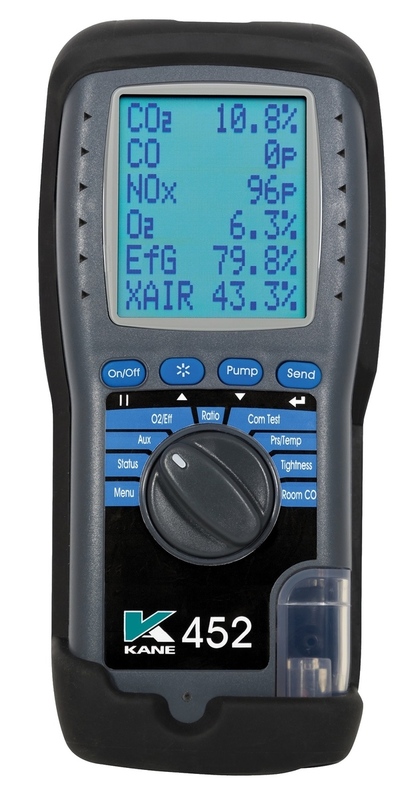 Select from pre-programmed fuels - gas, oil, biomass
Dual pump system for CO sensor 'over-range' protection
Low range NO sensor (0-100ppm)
Structured commissioning test
Fast print
Screen protection
6 line display
Factory fitted upgrades available
...the best just keeps getting better!
Features
Structured commission test
Rotary switch for ease of use
Data hold
Logs & prints reports with optional infra-red printer

Combustion
Pressure
Let-by & Tightness
Temperature
CO build up
Commission test

5 year warranty if serviced annually by Kane
Application
Installation and servicing of domestic oil, gas or biomass appliances
Safety checks
CO in a room or around an appliance
Combustion performance checks
Combustion efficiency checks
Flue Draught
Measures
CO2 direct with an infra-red sensor 0-20%
CO 0-2,000ppm
NO 0-100ppm
Differential temperature
High accuracy differential pressure meter +/- 80mbar
Calculates
O2
Excess air
CO/CO2 ratio
Combustion efficiency
Fuel Types
Natural Gas
Butane
Propane
LPG
28 sec oil
35 sec oil
Wood pellets
Box Contents
Analyser
Probe
Pressure connectors
Charger
Quick guide reference
Calibration report
Specifications
Temp Measurement
Range
Resolution
Accuracy
Flue Temperature
0-600°C
0.1°C
±2.0°C
±0.3% reading
Inlet Temperature
(Internal sensor)
0-50°C
0.1°C
±1.0°C
±0.3% reading
Inlet Temperature
(External sensor)

0-600°C
0.1°C
±2.0°C
±0.3% reading
Flue Gas Measurement
Range
Resolution
Accuracy
Oxygen*2
0-21%
0.1%
±0.3%
Carbon Monoxide*1
0-59ppm
60-3,000ppm
Above 3000ppm Purge pump operates
1ppm
±3ppm
±5% reading
unspecified
Nitric Oxide (NO)
0-100ppm

Over range to 1500ppm
1ppm
±2ppm <30ppm*1
±5ppm <100ppm*1
±5% reading >100ppm
Carbon dioxide*1
0-20%
0.1%
±0.3% volume
Efficiency (Net or Gross)*2
0-99.9%
0.1%
±1.0% reading
Efficiency High (C)*2
0-119.9%
0.1%
±1.0% reading
Excess Air*2
0-250%
0.1%
±0.2% reading
CO/CO2 ratio*2
0-0.999
0.0001%
±5% reading
*1 Using dry gases at STP
*2 Calculated
Pressure (differential)
Range
Resolution
Accuracy
Nominal range ±80mbar
Maximum over range without damage to sensor is ±400mbar
±9.999mbar
±10mbar - ±80mbar
0.001mbar
±0.005mbar
±0.03mbar
±3% of reading
| | |
| --- | --- |
| Pre-programmed Fuels | Natural gas Propane, Butane, LPG, Light Oils (28/35 sec), Wood Pellets, Town Gas, Coke Gas, Bio Oil, Bio Gas |
| User programmed Fuels | 5 user defined fuels |
Storage Capacity
60 Combustion tests
20 Pressure & Temperature tests
20 Tightness tests
20 Temperature tests
20 Room CO tests
20 Room CO tests
20 Commissioning tests
Carbon Dioxide resolution is 0.01% below 1% measured value.
Ambient Operating Range
0°C to ±45°C 10% to 90% RH non-condensing
Battery Type / Life
4AA cells
>8 hours using Alkaline AA cells
Chargers (optional)
100-240v charger, for NiMH batteries only
12v in vehicle charger, for NiMH batteries only
Dimensions
Weight
0.8kg handset with protective rubber cover
Handset
200 x 45 x 90mm
Probe
300mm long including handle
6mm diameter x 240mm long stainless steel shaft with 2m long neoprene hose. Type K thermocouple
Kit Options

KANE IRP-2 Infra-red printer & backpack

KANE IRP-2 Infra-red printer, KANEMSP manual smoke pump & oil pressure test kit in backpack.
Service Price
| YEAR 1 | YEAR 2 | YEAR 3 | YEAR 4 | YEAR 5 |
| --- | --- | --- | --- | --- |
| £129 | £229 | £129 | £229 | £210 |
---
Calibration or Conformity Certificates are included in all prices, as appropriate
All prices are in £ sterling and are exclusive of VAT.
Manuals