Unique - ambient & flue CO2 in one analyser Ideal for commercial catering & incident investigations
Features
Rotary switch for ease of use
Logs & prints reports with optional infra-red printer

Combustion
Pressure
Let-by & Tightness
Temperature
CO & CO2 build up
Logs & prints ambient CO & CO2

10 year warranty if serviced annually by Kane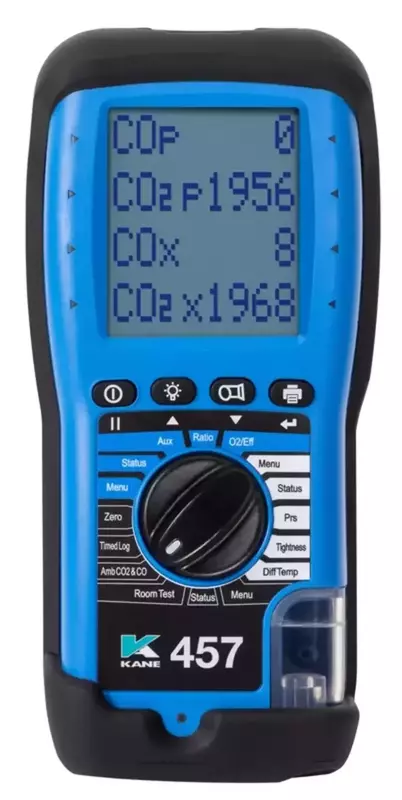 Application
Installation, commissioning & servicing of domestic oil or gas appliances
Commercial Catering
Safety checks

CO in a room or around an appliance

Combustion performance checks
Combustion efficiency checks
Flue Draught
CMDDA1
Indoor Air Quality
Measures
CO2 direct with an infra-red sensor 0-20%
CO2 ppm 0-10,000ppm
CO 0-2,000ppm
Differential temperature
High accuracy differential pressure meter +/-80mbar
Calculates
O2
CO/CO2 ratio
Excess air
Combustion efficiency
Fuel Types
Natural Gas
Butane
Propane
LPG
28 sec oil
35 sec oil
Wood pellets
Box Contents
Analyser
Probe
Pressure connectors
CO2 true zero capsule
Charger
Manual
Calibration report
Specifications
Parameter
Range
Resolution
Accuracy
Flue Temperature
0-600°C
0.1°C
±2.0°C
±0.3% reading
Inlet Temperature
(Internal Sensor)
0-50°C
0.1°C
±1.0°C
±0.3% reading
Inlet Temperature
(External Sensor)
0-600°C
0.1°C
±2.0°C
±0.3% reading
Oxygen*2
0-21%
0.1%
±0.3%*1
Carbon monoxide
0-20ppm
21-2000ppm nom
4,000ppm max for 15 mins
1ppm
±0.3%*1
±3ppm
±5% reading
Carbon dioxide
0-20%
0.1%
±0.3% reading
Efficiency (Net or Gross)*2
0-99.9%
0.1%
±1.0% reading
Effeciency High (C)*2
0-119.9%
0.1%
±1.0% reading
Excess Air*2
0-250%
0.1%
±0.2% reading
CO/CO2 ratio *2
0-0.999
0.0001
±5% reading
Nominal range ±160mBar
Maximum over range without damage to sensor is ±800mBar
±0.2mBar
±1 mBar
±160mBar
Maximum
0.001 mBar
<25 mBar
±0.005 mBar
±0.03 mBar
±3% of reading
Pre-programmed Fuels
Natural gas, Propane, Butanem LPG, Light Oils (28/35 sec), Wood Pellets
Ambient Measurements
Carbon Monoxide
As above
Carbon Dioxide
0 to 5000ppm 1ppm ±5% reading
5001 to 9999ppm 5ppm ±8%reading
Storage Capacity
99 Combustion tests
20 Pressure tests
20 Tightness tests
20 Temperature tests
20 Room CO tests
20 Ambient tests
up to 240 times tests (one sequence only)
*1 Using dry gases at STP
*2 Calculated
Ambient Operating Range
Temperature - 0°C to 40°C
Humidity - 10% to 90% RH non-condensing
Atmospheric Pressure - 860 to 1060hPa
Battery Type / Life
4AA cells
>8 hours using Alkaline AA cells
Chargers (optional)
220v charger, for NiMH batteries only
12v in vehicle charger, for NiMH batteries only
Dimensions
Weight - 0.8kg handset with protective cover
Handset - 200 x 45 x 90mm
Probe - 300mm long including handle. 6mm diameter x 240mm long stainless steel shaft with 3m neoprene hose. Type K thermocouple
Wireless Options
Optional wireless upgrade
Transfer analyser readings to your PC using a KANE LIVE software.
Send printout data to your mobile device using the free Kane printer app.
Kit Options

KANE IRP-2 Infra-red printer & carry bag

As KIT plus GLD/450plus gas leak detector, KAL1 air liquid temperature probe, pressure hose & 2 x KPCP clamp-on pipe temperature probes and carry bag.

As PRO KIT plus ASP2 appliance sampling probe kit, 12v in vehicle charger, in a large carry bag.

As KIT plus DAFM3 digital air flow meter.

As KIT plus KANE77 personal CO monitor and CPS1 combustion probe stand.
Accessories

PRD1

CPS1 Combustion Probe Stand

14102-2 Soft case

KANE MSP

GLD450 Plus

17820 Carry Case

KANE IRP-2 BLUE BOOT

Battery Charger, 100-240V

Pipe Clamp Probe

20106 - Backpack

KAL1 Air Liquid Probe
Consumables

TP5 Pack of 5 Thermal Paper Rolls

18519 4 x 2,000 mAh rechargeable batteries

PF400-5 Filters
Service Price
---
Calibration or Conformity Certificates are included in all prices, as appropriate
All prices are in £ sterling and are exclusive of VAT.
Manuals