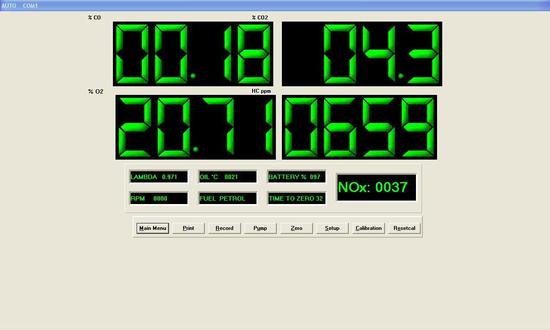 Installation:
Notes:
The software will run on most PCs from Windows 95 onwards with a standard serial port (RS232 or COM port).
Computers which have USB ports will require a USB to serial adaptor.
Some PCs may need adjustment to the Com port buffer settings: Typically: set "Receive" just one step up from minimum and set Transmit to minimum. Other settings are as Default.
To install the software:
Create a folder with your choice of name and copy the Auto program to this folder. This folder can also be used to store tests (If you need Help on creating folders or copying files click Start, then Help, on your PC).
Basic operation:
You will need the special serial lead, which is supplied with the software, and a Gas Analyser with a socket which will accept the above serial lead. The lead should be connected to the analyser and one of the serial ports on the PC.
Ensure that the Analyser is fully charged and turn it on; wait until it is running and displaying the main screen with gas readings.
Ensure that the Analyser and the PC are set to the same date and time
Any other software which may control this serial port should be switched off.
Double click on the Auto program and wait for it to start.
Ignore any initial communication error warnings and select File, then Comm, then either Com1 or Com2.
Select DIGITAL you should see that the indicator at the bottom centre of the screen indicates that the PC is communicating with the Analyser.
If there is no communication (error is indicated), check through the steps above. Try using a different PC. Do not hold down or double push keys as the repeat may cause errors. Once running only use the keys on the PC.
Analyser Notes:
The Gas Analyser' onboard software version must be 4.2 or higher. Please check the version number at start-up. If you have an older version please contact your supplier.
Software Functions
HEADER
This allows you to easily change the Header which appears when you first turn on the analyser
DIGITAL
Shows the gas readings and allows the following settings:
Print: Prints out the current readings ( together with a print header as set below).
Record: Opens a Text file (.txt) where analyser readings are stored as they are displayed on the screen. Switching off the pump will cause recording to pause. These files may be read by other programs such as Excel. Recording is shown at top of screen. Recording must be switched off - before attempting to use STORE functions from the main menu.
Pump: Pump is switched on and off and is indicated on screen. The pump stops when this program stops communicating with the Analyser for more than about 30 seconds.
Zero: Sets the zero of the Analyser in fresh air.
Setup: Allows selection of Fuel type; RPM setting (NB wasted-spark systems may require setting as 2-stroke or /2); Display configuration (of the Analyser); Lambda or AFR; Temperature in °C or °F; Also sets time and date of the Analyser to match those of the PC.
Calibration: Allows gas cal to be reset (but does not erase the record of the original factory calibration.)
Resetcal: Restores the original factory calibration.,
GRAPH
Shows the selected gas readings in graphical form. Each variable can be selected or deselected as required. The scales on the graphs are:
CO      0-20%
CO2     0-20%
O2      0-20%
HC      0-2000 ppm
NO      0-2000 ppm
AFR     0-20
Lambda  0-2
RPM     0-20,000
OIL     0-200

Hints: if you want Lambda / AFR or other RPM ranges use the function available under the DIGITAL Setup above. Print allows printing of graphed values. A colour printer is required to identify channels on multi-trace graphs. TTZ means Time To Zero.
STORE
Three sub-menus appear - Upload uploads a test from the analyser to the PC; View displays a stored (.ATO) (uploaded) test as a graph; Export converts a stored (uploaded) test to a text file.
(A test is a group of up to 250 readings stored in the analyser which can be uploaded, viewed and exported).
COMM
Select Com as described above.
PRINTER SET UP
Standard Windows printer setup. A choice of Portrait or Landscape can be set.
COMPANY HEADER
The header which appears on digital printouts.
Language set:
On windows 2000 and above the sw should detect a registry file in
HKEY_CURRENT_USER HKEY_CURRENT_USER\Control Panel\International (Name=) sCountry (Data=) "United States"
This is assuming that the PC Regional Settings are set for English (United States).
At present this changes fuel indication from "Petrol" to "Gasoline".