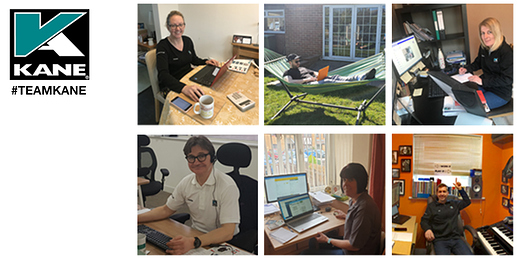 There's no-doubting that everyone has had to readjust somewhat during the coronavirus pandemic. It's no different for us here at KANE. We realise that our customers rely on our testing equipment to assist with key safety work – that's why we are doing all we can to keep the company operational.
We're following all Government guidance to protect our staff, customers and suppliers, working from home where possible and ensuring effective hygiene and "social distancing" at our two sites.
As you can see from the images, our customer service, sales and marketing staff are working from home (some are finding it more relaxing that others it seems).
KANE CEO Jonathan Kane has rolled his sleeves up and has been helping out in all areas of the business (pictured on the helpline answering customer queries).
Our sites at Welwyn Garden City and Atherton are still manufacturing new equipment as well as servicing and recertifying testing equipment. For more information about our COVID-19 operations see here: https://www.kane.co.uk/news/kane-covid-19-update