Here at KANE, we care about the people that we work with – our customers are everything to us. That's why we will be showcasing the great people that use our products.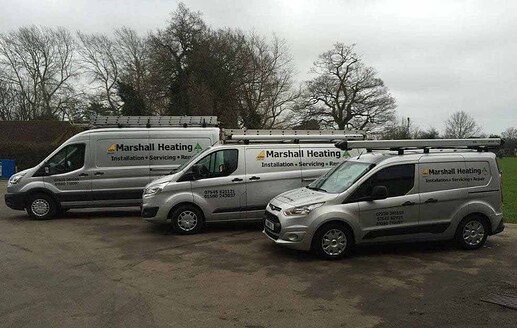 In this blog, we are delighted to be talking to Lawrence 'Milky' Marshall of Marshall Heating, Cranbrook, Kent. They have been established for over fifteen years and specialise in domestic gas and oil heating work.
How long have you been in the industry?
I have been in the heating industry since leaving school in 1979. Originally starting as an apprentice engineer with British Gas. Once qualified I worked mainly in the domestic gas service industry.
In 1992 I joined CORGI as a safety Inspector. I gained qualifications and experience in all aspects of the gas industry. While working for CORGI I was involved in writing the first Corgi Gas Installer Manual and produced several technical articles for a national industry magazine. I also was part of the Carbon Monoxide Accident Investigation Team at CORGI.
In 2004, I started out on my own and set up Marshall Heating.
Why did you become a plumber/engineer?
I've asked myself this many times! If I am honest, I got into the industry by accident when I applied via a coupon in a local newspaper for Gas Board apprentices. It's not an area of work that I had ever previously considered but threw my all into this trade.
What do you love about your job?
I am very lucky to be able to say that I genuinely like my work. I enjoy the interaction with the public.
I left school unqualified and was destined for failure… the heating industry offered me an opportunity and has been good to me, enabling me to comfortably support myself and my family. Throughout past recessions, and even the current COVID crisis, I have had continued employment and income.
Every day I find something new or amusing in my work, even after all this time. How many other jobs could offer me that!?
I have trained several other people to become heating engineers and watched their lives flourish because of their involvement with me and this trade. They might tell a different story, but I believe I've made a difference and that is a priceless feeling.
What annoys you about the industry?
When I read this question, I thought, don't get me started! But in reality I am struggling to think of anything specific that I don't like. I suppose the truth of it is, if I didn't like it, I would get out of it.
Why do you use KANE?
Experience has taught me that cheapest is not always best and there's no substitute for quality.
In business I've become very choosy about the brands I use and don't change often. We currently use Kane flue gas analysers and manometers at work because they are easy to use, reliable and durable.
I believe that Kane has a good name in the industry and using their products gives my company a professional profile. While I don't think the average customer knows a good analyser from any other, my peers in the industry do and judge my professionalism on the products I use.
Would you like your business to be face of KANE? We are on the look out for quality engineers from all areas of the country - both men and women, young and old. Email [email protected] and we'll get in touch.