You all probably know, at KANE, we design, engineer, manufacture and sell electronic testing equipment. But did you know that most of this happens in the UK? And that we have 86 staff here that work tirelessly at our two UK sites in Welwyn Garden City and Atherton, Manchester?
Each month we are going to show you a sneak peek behind the scenes and highlight our brilliant staff.
This month we have caught up with Enyled Zamora. She has recently joined us as a Service Technician at KANE House in Welwyn Garden City.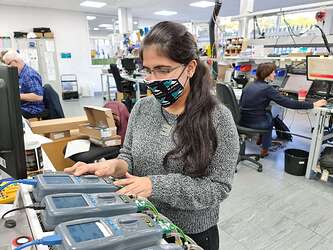 Enyled is the latest member of #teamkane. Originally from Venezuela, South America, Enyled came to England last year. Prior to joining KANE, she worked as a Control Engineer in a power plant for seven years – where she was responsible for Instrumentation and Control maintenance activities.
What made you join KANE?
I was looking for my first job in the UK, and I consider that Kane International will offer me opportunity to develop my career here, gaining new skills and broaden my knowledge in a different industry.
What skills do you bring to the role?
During my career I've developed a range of skills, one of them is fault finding and problem solving in different equipment which is a great asset for my position as Service Technician.
What motivates you to work hard?
I'm a highly focused person. I always try to give my best in everything I do.
What makes you laugh the most?
When I chat with my girlfriends, especially when we're together in the same city and go out to some places.
What song would you sing at Karaoke?
I would never made people suffer in that way. Haha!
What really makes you angry?
I don't like injustice and when people are mean with others because they have made a mistake or just because they are different. Everybody must be treated with respect.
When I'm not working you will usually find me…
I try to stay fit (I admit I failed on it lately) so I practice Yoga, Pilates and I also enjoy doing some jogging. I love going to the cinema, but due to the current situation I also enjoy watching movies and series at home.
My favourite crisps are…?
I'm not a big fan of crisps. I would say I like ready salted and cheese and onions.
Not many people know that I…
I enjoy preparing desserts. I like to find recipes on Youtube and prepare new dishes that my family and friends enjoy.