You all probably know, at KANE, we design, engineer, produce and sell electronic testing equipment. But did you know that most of this happens in the UK? And that we have 86 staff here that work tirelessly at our two UK sites in Welwyn Garden City and Atherton?
Each month we are going to show you a sneak peek behind the scenes and highlight our brilliant staff.
This month we have caught up with Scott Holliday. Scott is KANE's Marketing executive.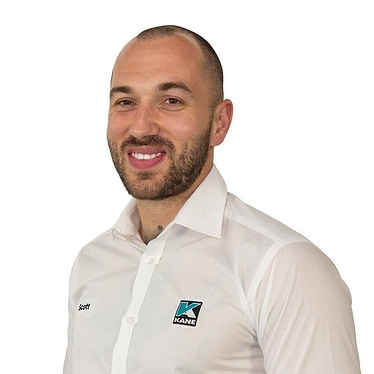 Scott has been working with KANE for around a year. He is responsible for our online presence and general marketing activities. If you follow us on social media or have visited an exhibition, you would have no doubt bumped into him.
1. What's your daily role?
I am responsible for KANE's marketing activities. It can be a varied role, one day I can be helping out with an exhibition, the next, sat behind a computer screen creating manuals and adverts. A lot of my time is spent on social media nowadays, it's such an important platform for us – giving us the opportunity to be able to talk to our customers directly.
2. What do you like about it?
It's a brilliant company to work for and I have a great team around me. Most of my colleagues have been here 20-plus years, and it's that longevity that makes you think that the company must be doing something right. I can see a definite career path with training always encouraged.
3. When I'm not working you'll usually find me…
Most of my spare time is spent with my family. I have a son, wife, dog, cat and fish to keep me on my toes.
Other than that, I golf a lot and have a season ticket for Blackpool FC.
4. My favourite crisps are…
I don't really eat them but probably something classic like cheese & onion Walkers.
5. I bet you didn't know…
I used to own a mobile Neapolitan pizzeria.