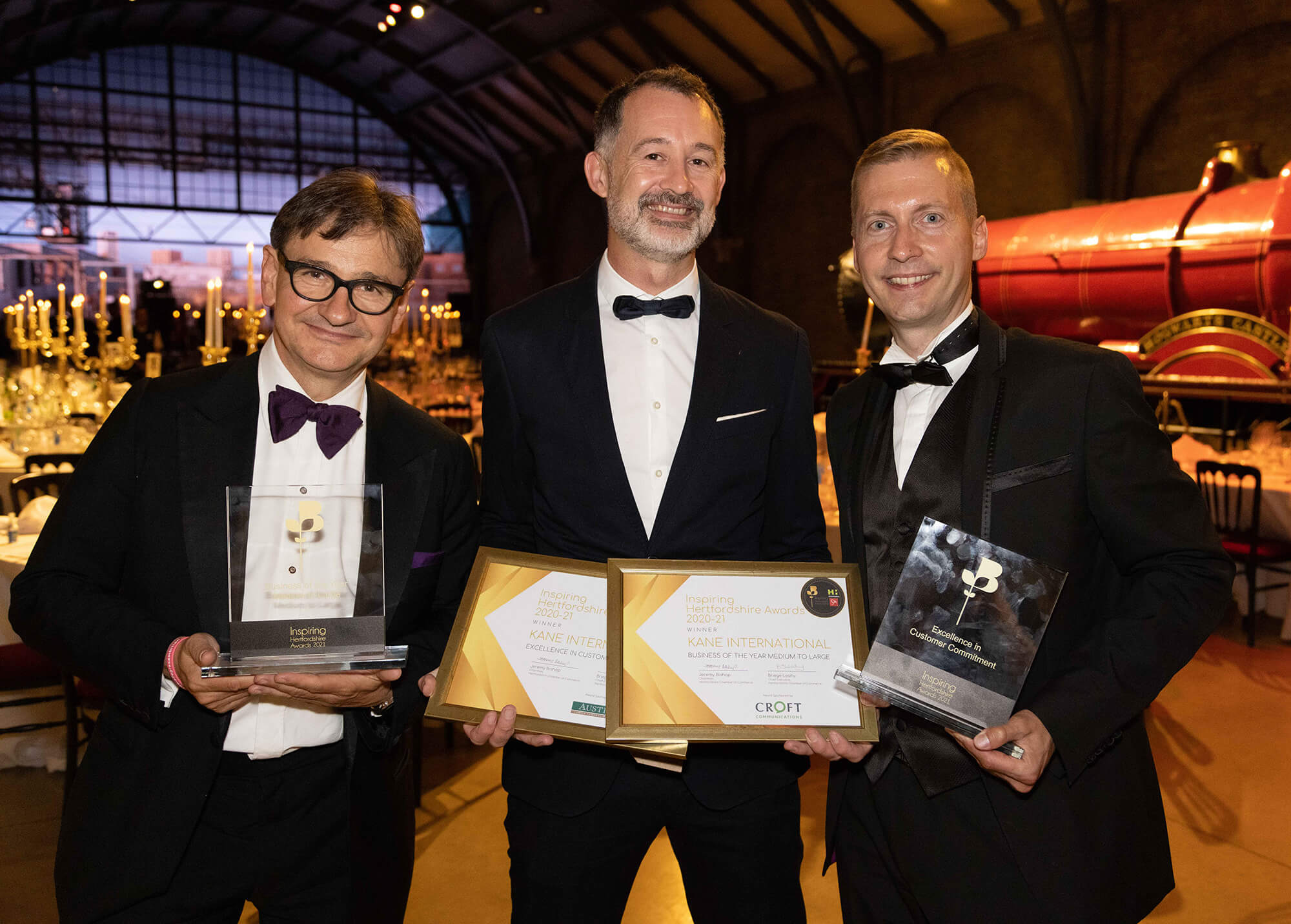 Hertfordshire Chamber of Commerce invited us to talk about Inspire Hertfordshire awards – the Business Oscars of Hertfordshire.
In 2021 we won two awards – Business of the Year (Medium to Large) and Excellence in Customer Commitment.
We were asked to explain what that meant to this year's applicants. We hope other local businesses will enjoy the challenge as much as we did.
KANE is a 60 year old, 2nd generation family business that few Hertfordshire people know.
Recruiting is a challenge with many great employers offering good jobs locally or with an easy commute.
But for our customer, that's not important – for them, if our equipment doesn't work, they can't work and our homes and workplaces won't be safe and warm with hot water.
KANE needs talented people – but how?
Let's start with pay & benefits - no one works at KANE for under £11 an hour, our salaries are higher than the UK average, adjusted yearly for inflation, and everyone is in our John Lewis Partnership style bonus pool.
We work in a wonderful HQ in Welwyn Garden City you can see from the railway line and nearby bridge – it's 5 minutes to the station and town centre.
We care for our team, offering flexible working hours, regular reviews, mentoring, mental & physical health insurance, zero cost loans & long service recognition.
We run quarterly staff surveys and host town hall meetings to discuss how we're doing.
New colleagues receive great career development & job satisfaction – within months they have new skills & responsibilities and on average stay for over 8 years. We also have many colleagues who have given 15 years or more service.
Inspiring the next generation
We take outreach seriously – for example, helping Hertfordshire University Formula Students design & build cars to beat other universities.
We hope they won't all work in Formula 1 or UK PLC but come to KANE - a company they've never heard of – and become important players in our team, not small cogs in large companies.
We work with other universities – Imperial & Brunel – and local schools & colleges. It isn't easy, given we have day jobs and are busy, but we know it's necessary.
That's why we entered these awards – to confirm we're doing the right thing, trying to develop our team, be successful, think smart, keep our business simple & stay humble.
We entered the competition, got nominated, loved the venue and won 2 awards.
Until last year, who knew we were Hertfordshire's Best Business?
Until last year, who knew we had Hertfordshire's Best Customer Service?
Now everyone knows – our suppliers, bank, accountants, customers we have, customers we'd like to work with, new recruits and, most importantly, our team.
What a difference an award makes – it's re-energised us to confirm our 10 year plan, keep developing the best products and delivering the best service with our great colleagues.
It means increased customer satisfaction, new opportunities and more reasons to continue investing in Hertfordshire & UK PLC.