You all probably know, at KANE, we design, engineer, produce and sell electronic testing equipment. But did you know that most of this happens in the UK? And that we have 112 staff here that work tirelessly at our two UK sites in Welwyn Garden City and Atherton?
Each month we are going to show you a sneak peek behind the scenes and highlight our brilliant staff.
This month we have caught up with Steven Halliday. Steve is the Service Manager at our Northern Service Centre in Atherton, Manchester.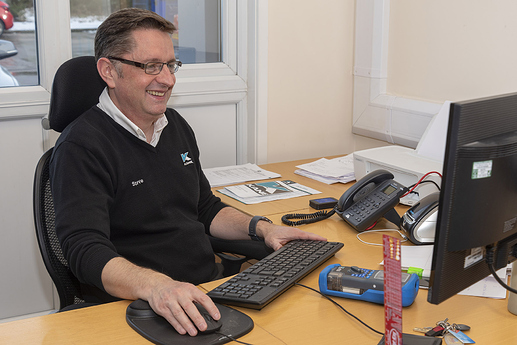 Steve has been with KANE for 7 years. You'll know him if you have ever dropped off your FGA at our Northern Service Centre. Steve plays a big role in you getting such a quick and efficient FGA service. He's a real credit to the company.
1. What's your daily role?
I am responsible for Kane International's Northern Service Centre, making sure all our customers get the top-class customer service associated with Kane.
2. What do you like about it?
I really enjoy dealing with Kane customers & staff – resolving any issues that may arise and looking at ways to improve our service.
3. When I'm not working you'll usually find me…
At the gym, doing the odd pub quiz or watching Man City.
4. My favourite crisps are…
Cheese & onion walkers.
5. I bet you didn't know…
I am related to the lead singer of a famous Mancuian band!