KANE458s IAQ replaces our KANE457

KANE-AQA measures up to 4 indoor air quality gases & tests appliance integrity

KANE LINK - our future proof promise, standard on KANE458s & KANE-AQA

KANE CARE - The best after sales service, 10 year warranty & 20 year all inclusive pricing or your money back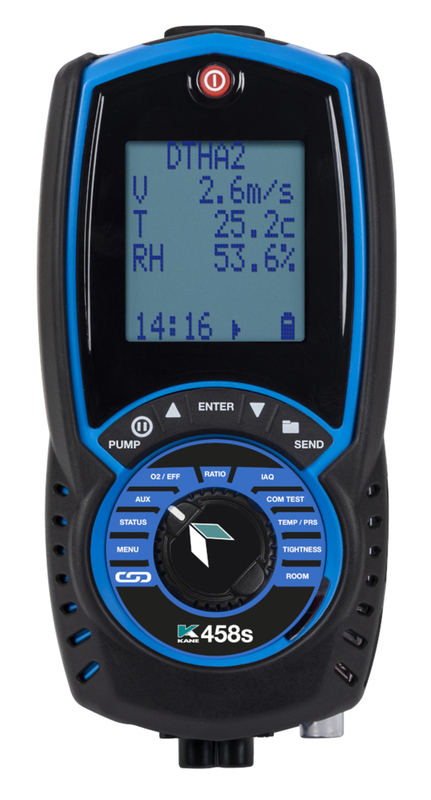 NEW KANE458 IAQ Flue Gas & Indoor Air Quality Analyser
Over 10 years ago we launched our KANE457 - the only FGA approved to EN50379 & EN50543 - testing commercial kitchen ventilation, flueless appliances & buildings faster than EN50379 analysers, becoming the best analyser for room CO investigation specialists.
Our KANE457 is also the only analyser to win the coveted AGSM Gas Safety Award.
We now proudly introduce our KANE458s IAQ - the only analyser approved to EN50379 & EN50543 (pending) also with KANE LINK & KANE CARE.
Upgrade your KANE458s or buy our new KANE458s IAQ to:
measure ambient CO2 with tests only previously possible with our KANE457
test rooms for CO & CO2 migration, commercial kitchens for adequate ventilation and appliances for emission leaks
test 4 rooms for CO simultaneously, saving 90 minutes on a normal room test, with optional KANE79 CO monitors
wirelessly test indoor airflow, temperature & humidity and flow & return temperatures
transfer your results to our KANE LIVE app
You can also:
Test indoor air quality (IAQ) using our ambient CO2 sensor option
Fast track CMDDA1 - test up to 4 rooms simultaneously with KANE79 CO monitors
Test commercial kitchen appliances for CP42 gas safety certificates
Measure domestic & commercial flueless gas appliances, space & water heaters with our ambient CO2 sensor option
For more information click see the KANE458s product page.
KANE458s Flue Gas Analyser with direct CO, CO 2 & CO sensor protection. Tests domestic gas, oil, biomass & some commercial appliances; Latest upgradeable sensor technology.
NEW KANE-AQA Air Quality Analyser
We proudly launch our KANE-AQA, the first Indoor Air Quality Analyser measuring building ventilation & pollution with upgradable sensors.
Use our KANE-AQA to:
wirelessly test rooms for airflow, temperature & relative humidity
test appliance differential pressure & draught
Check indoor quality, measuring up to 4 gases - ambient CO, CO2, O2 & NO
Our KANE-AQA quickly tests ventilation & air quality in commercial kitchens, workplaces & public spaces.
Our KANE-AQA also includes room CO & CO2 build up tests and appliance integrity tests (sensors dependant).
Our KANE-AQA uses KANE LINK to wirelessly tests A/C systems, refrigeration units & kitchen fans and rooms for CO migration.
KANE LINK & KANE CARE
Our KANE458s IAQ & KANE-AQA come with KANE LINK & KANE CARE
KANE LINK - our wireless measurement & future proof promise
Use your KANE LINK analyser to safely measure:
Boiler & heat pump flow & return temperatures
Commercial premises IAQ, airflow & humidity
Room CO tests - up to 4 simultaneously
100%H2 appliances when required
HVO appliances when required
KANE CARE - our never let you down or your money back promise
10 year warranty with annual Service & Recertification
Same Day Service & Recertification guaranteed - some exclusions apply
20 Year all inclusive pricing - the price you see is the price you pay
Free next day tracked delivery to KANE & 9aam next day return & Saturday
Theft protection - 50% off replacing your stolen KANE analyser
Any questions, please call us on 0800 059 0800