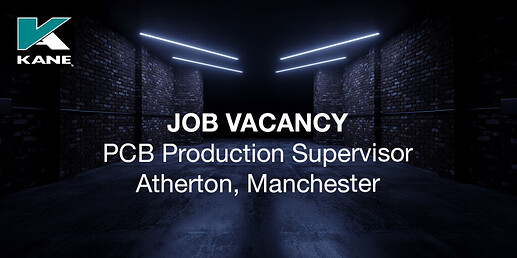 We have a new full-time vacancy based at our Atherton, Manchester site for a PCB Production Supervisor.
What you'll do:
Provide leadership to the PCB department personnel. This is a hands role that will require you to step in during periods of absence and/or as the business needs dictate. For this reason, you'll need to live at a commutable distance from our Atherton facility.
You'll be expected to:
Oversee operations including scheduling, stock control, quality, on time delivery, inspection and programming.
Maintain a safe and clean work environment.
Ensure equipment and tools are in good working condition and available for use when required.
Ensure department is producing product that meet Kane's quality standards.
Identify root cause of quality issues and develop corrective action plans to improve.
Evaluate and modify the manufacturing material workflow for increased throughput and productivity if required.
Complete maintenance, as necessary.
Assist in preparation and maintaining project plans to satisfy milestones. Assist in the selection of SMT equipment.
Design optimum production processes such as solder paste selection, reflow profiles, stencil designs, component feeder set up methodology and selective soldering techniques.
Use electronic data files. For example, Gerber and various CAD packages.
Other duties as assigned by management.
If you are interested please send your CV along with covering letter to [email protected]
Closing date is Friday 9th April
!NO AGENCIES!