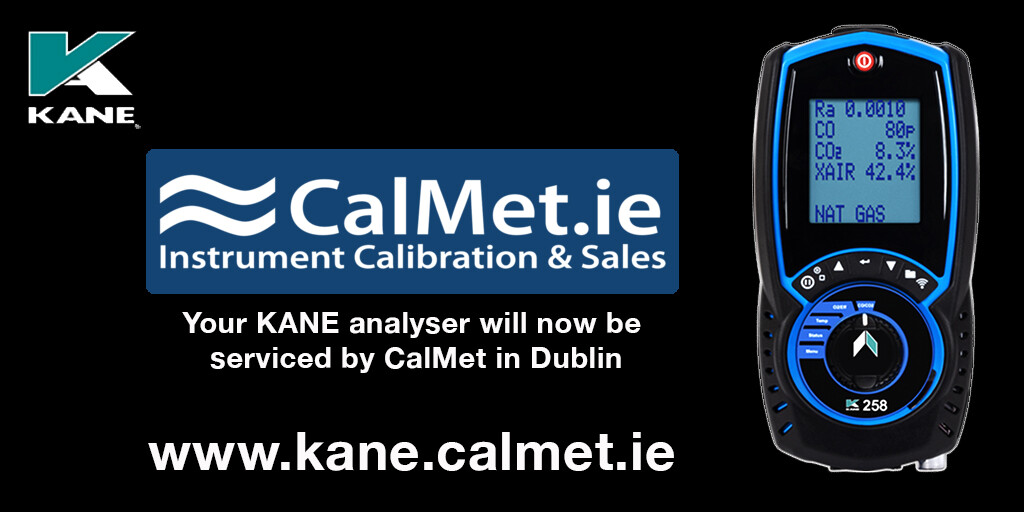 Great News – From January 4th 2021 your KANE analyser will now be serviced by CalMet in Dublin
KANE, the UK's most trusted analyser manufacturer, is partnering with CalMet, Ireland's leading Calibration, Sales & Repair Company.
We're delighted to combine 90 years of calibration & testing experience, so you won't have to send your analyser to the UK.
SAME KANE QUALITY SERVICE – ONLY QUICKER & NEARER
CalMet's state of the art KANE testing facilities and trained staff means you'll receive KANE CARE's outstanding 5 Star Service without sending your analyser to the UK.
Here's what customers can expect from KANE's partnership with CalMet:
KANE CARE
KANE CARE's 5-star service is our promise to put you first, so we become Ireland's most trusted analyser supplier. Here's how:
10 YEAR NO QUIBBLE WARRANTY
We're Ireland's only analyser supplier offering 10 year 'No Quibble' warranty on any KANE FGA & pressure meter annually recertified by CalMet.
We mean what we say – returning your KANE analyser every year extends its warranty to 10 years.
NEXT DAY SERVICE
We know you're busy, so your KANE analyser or pressure meter will be serviced, recertified and returned the day after CalMet receive it.
LOCAL SUPPORT
You'll never have to return your KANE analyser to the UK for repair, service and recertification.
CalMet's KANE service centre in Dublin makes everything fast & simple, offering:
⦁ Traceable Calibration Service to National Standards
⦁ Collection & Delivery Service
⦁ 24 Hour Emergency Service
KANE's Sales Director Tom McCue said: "We're so pleased CalMet will deliver KANE's unique after sales service in Ireland to help us become Ireland's most trusted analyser supplier."
For more details visit https://calmet.ie/pages/kane-gas-analyser-calibration