You all probably know, at KANE, we design, engineer, manufacture and sell electronic testing equipment. But did you know that most of this happens in the UK? And that we have 107 staff here that work tirelessly at our two UK sites in Welwyn Garden City and Atherton, Manchester?
Each month we are going to show you a sneak peek behind the scenes and highlight our brilliant staff.
This month's meet the team feature is a special one, we are delighted to be speaking to one of KANE's longest serving members of staff – Michèle Perry – who this month, celebrates 25 years of working at KANE!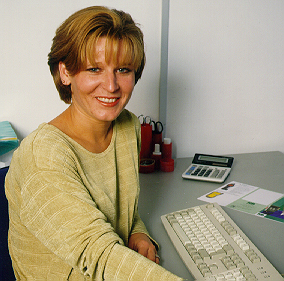 Michèle is KANE's Key Account KAM Manager. She works with KANE's Key Accounts and Large Business Teams, helping them to create and maintain their KANE Asset Manager (KAM).
How long have you been working at KANE?
25 years – I started working for Kane on Monday 6th January 1997 #NewYearNewJob
What does your job role entail on a day-to-day basis?
I work with my KAM Partner helping our Key Accounts & Large Business Teams create, maintain and use their Kane Asset Manager (KAM).
Arranging returns for Recertification, Warranty & Repair via their KAM dashboard entitles our customers to all the benefits of KANE CARE as well as helping them demonstrate their recertification compliance.
Have you carried out any other job roles whilst at KANE?
1997-1999 – I can't remember my first title but I started initially providing reception cover, then worked supporting the Directors PA, then worked for David Fairhust when he became MD.
1999-2018 – Marketing Administrator – assisting in implementing corporate marketing objectives (and developing the KANE brand when Martin O'Dea became Marketing Manager).
2018-2021 – Field Support Manager - providing support in the field to Large Business Teams and Key Accounts.
How has the company changed since you first joined?
When I started working at Kane International Ltd it was a small, family run business and that family feeling permeated through staff.
Kane's growth means it's very different as a member of staff, but I see the benefits of that growth and evolution for our customers – especially with KAM.
What do you like about working at KANE?
The flexibility and the incredible team I have around me. I worked part-time hours (9:15 to 2) initially, allowing me to do the school run and have a work/life balance. When Mitchell, my son, was at University (as well as working at Kane himself too) I realised I was fulfilling a full time role in part time hours and made it official.
As my job and life changed, when relocating from Welwyn Garden City to Stafford, I was given the opportunity to work from home and although I wasn't sure if not 'being with' people would suit me, my role evolved into being field, rather than home, based.
I work as part of an incredible Sales & Marketing Team and spend lots of time with our great customers - and I've never been happier.
When I'm not working you will usually find me…
…with a sausage dog on my lap if I'm inside, pointing out sausage dogs in the distance if I'm outside, or filling up bird-feeders if I'm in the garden!
Not many people know that I…
…developed my love of animals from being lucky enough to have a variety of pets while growing up abroad in Africa, St Kitts and Bahrain – from monkeys, dogs, cats, goats, ducks, lizards, frogs & donkeys to my 13th Birthday present Trixie, my first ever dachshund!