Flue Gas Analysers (FGA) are vital to test the safety, performance and emissions of any fossil fuel boiler, fire, cooker or heating system. They are used daily by thousands of heating engineers in the UK.
To meet strict compliance rules and keep your customers safe, your FGA must be calibrated and recertified yearly.
Why Calibrate and Recertify?
Calibrating and recertifying your FGA ensures it performs as new. Like vehicles, FGAs have moving parts and sensors that wear over time and must be checked, repaired or replaced to stay within performance requirements of BS EN: 50379 & TB143 in the UK and other countries.
Failure means your FGA may give incorrect readings, causing unsafe situations for you and your customers. Your work will also fail inspection & assessment, risking disqualification or worse.
KANE CARE makes calibration and recertification easy – our guaranteed same day service includes free, next day delivery to keep your down time to the absolute minimum.
How often should you recalibrate your flue gas analyser? Every Year!
It is an industry requirement to have your FGA professionally calibrated and recertified every year. British Standard BS7967 & Technical Bulletin TB143 and European Standard BS EN: 50379 clearly state FGAs must be professionally calibrated and not used if they have expired calibration dates.
Your KANE FGA shows you when this is due every time you switch on your FGA, on your FGA printouts and calibration certificate. When you register your KANE FGA at www.kane.co.uk you also receive an automatic reminder.
Your KAM Dashboard makes same day annual calibration & recertification easy and includes free next day delivery to and from KANE.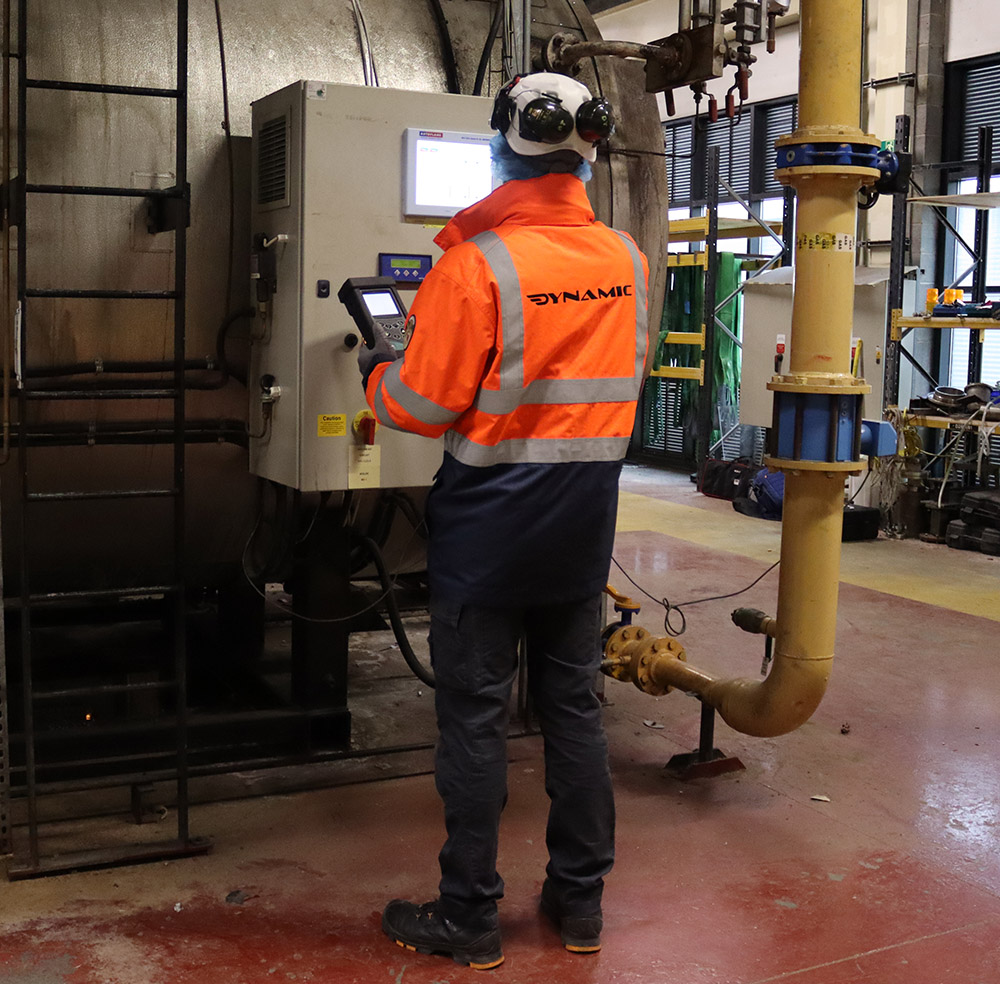 Why should you calibrate your flue gas analyser?
FGAs are essential safety devices and their calibration and recertification directly impacts measurement accuracy. In other words, if you use an FGA with an expired calibration certificate, you cannot guarantee measurement accuracy, affecting the quality of your work.
If there was a problem or accident, you are accountable and liable if your FGA had an expired calibration certificate – It goes without saying this can have disastrous consequences.
You may be asked to show your valid analyser calibration certificate at any time – your KAM Dashboard gives peace of mind because your KANE FGA calibration certificates are always available online, even if you cannot find your paper copy.
KANE CARE 10 Year No Quibble Guarantee
All KANE FGAs come with KANE CARE – our same day, all-inclusive calibration and recertification guarantee with 10 years warranty.
They leave our Welwyn Garden City home calibrated and certified for one year with our KANE CARE 10 year No Quibble Guarantee – our promise to never let you down.
Every time you return your FGA via www.kane.co.uk we automatically extend your No Quibble guarantee by a year, no matter how you bought your FGA.
Calibration and recertification costs are based on analyser age and include full service & software upgrades, parts and accessories repair & replacement and another year no quibble warranty for up to 10 years.
It's easy with KANE CARE
We know you need your analyser and do everything possible to make calibration and recertification quick and easy – here's how it works:
Register your KANE FGA at www.kane.co.uk

When time, go to www.kane.co.uk to pay one all-inclusive age related price

Use our free next day tracked delivery to return your FGA & accessories

KANE CARE guarantees same day service or your money back – some exclusions apply

KANE CARE guarantees repair or replacement of any defective part or accessory

KANE CARE extends your no quibble warranty by 1 year for up to 10 years – another benefit is that you receive 50% off a new FGA if yours is stolen

We return your FGA next day free of charge with your calibration certificate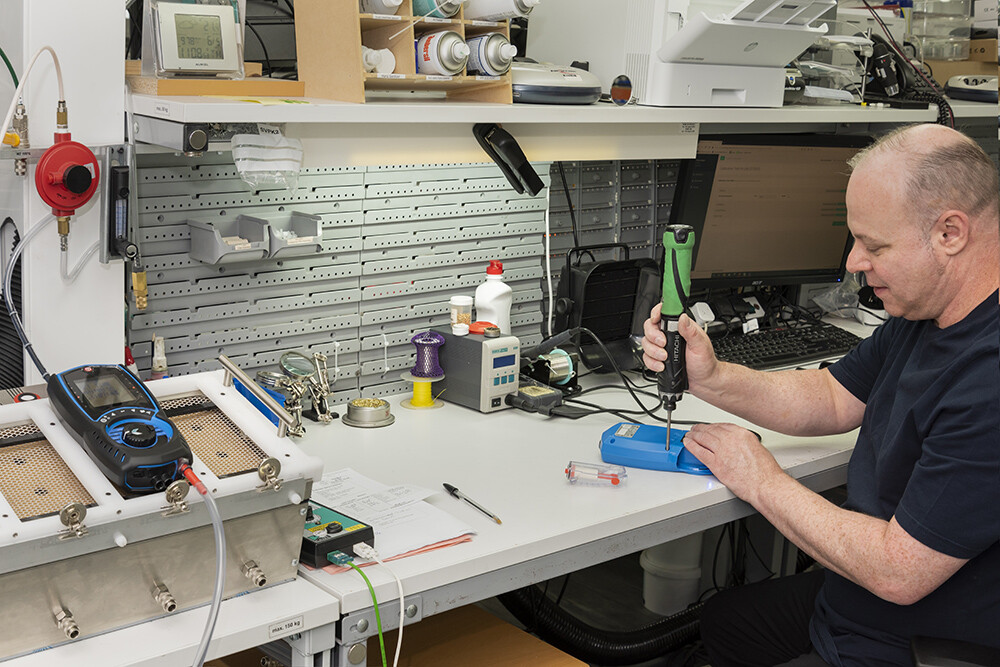 Unrivalled Experience, Knowledge & Approvals
KANE has designed, made and serviced test equipment for 60 years.
We have the UK's largest team of FGA service engineers trained to the highest standards with many years of experience.
KANE is the only FGA supplier certified to UKAS standard ISO 17025, meaning our calibration accuracy is equivalent to National Standards, and we are ISO 9001 & ISO 14001 approved.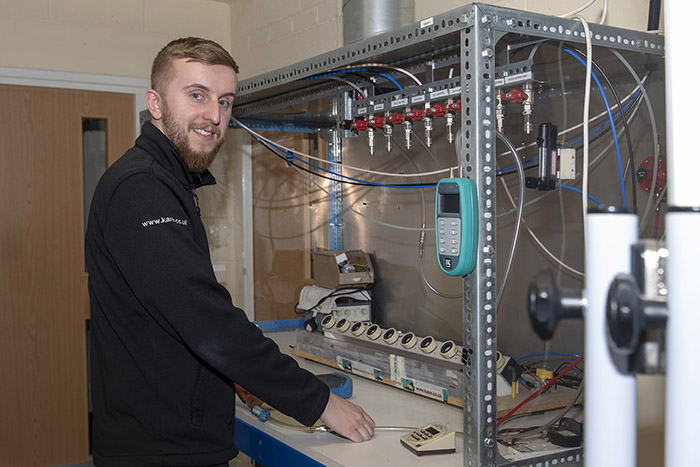 How do KANE service, recalibrate and recertify a flue gas analyser?
KANE has two state of the art service centres in Atherton, Greater Manchester, and Welwyn Garden City in Hertfordshire.
When we receive your FGA, we automatically note what it comes with and send you a text confirming arrival if you use www.kane.co.uk or an email with our fixed price, all-inclusive quote.
Our engineers perform tests to confirm what to repair or replace free of charge including sensors, probe, charger, carry bag & printer - any items causing concern – with software & hardware upgrades.
Once complete, we calibrate and recertify your FGA to National Standards for the gases, temperatures and pressures your FGA measures.
We then perform a final check and clean, replacing batteries with new rechargeable batteries, before returning your FGA using tracked next day delivery – we also send a text message with tracking details if you use www.kane.co.uk.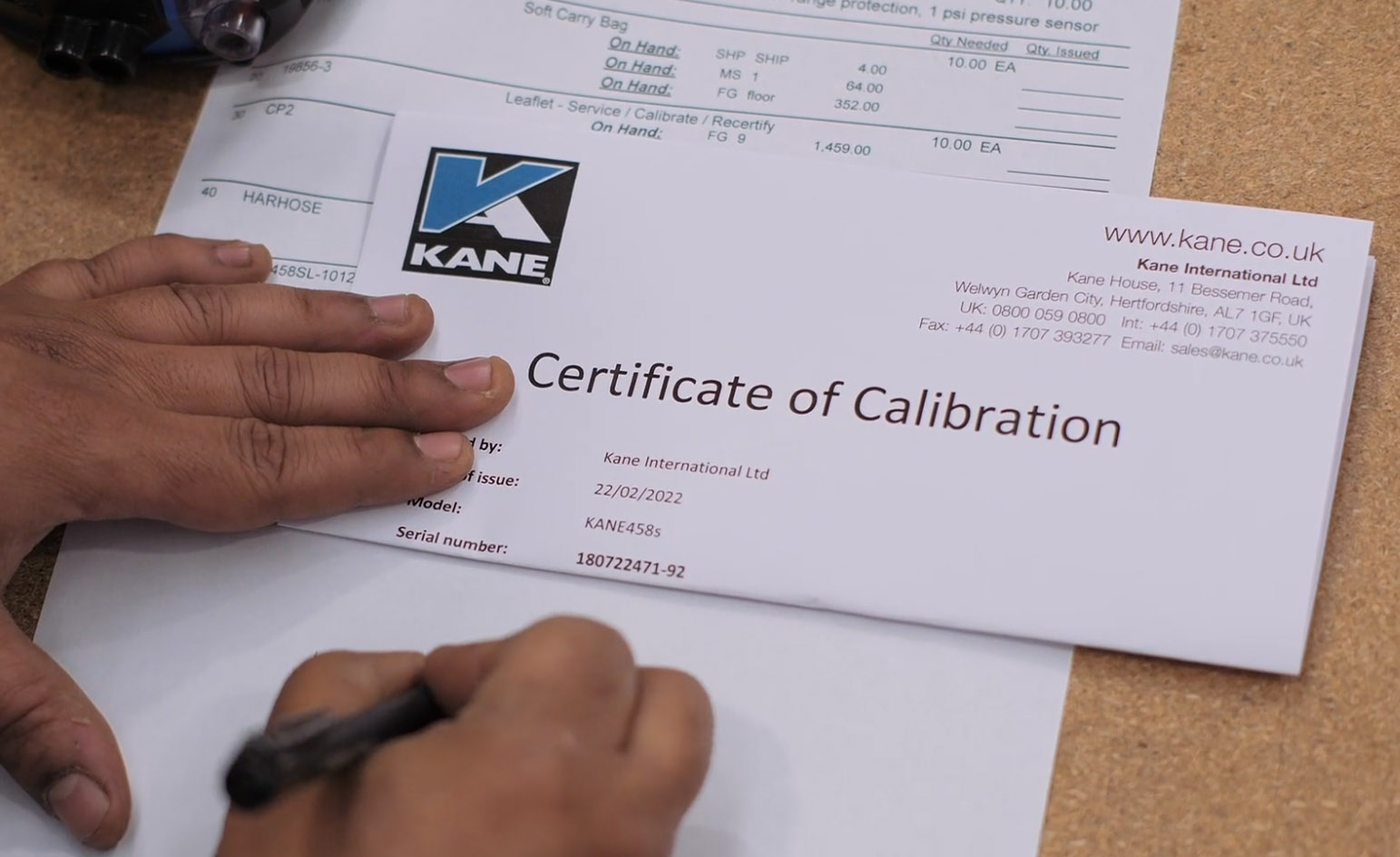 Flue Gas Analyser Calibration Certificate
After our service, calibration and recertification, we enclose a calibration certificate valid for one year. Your calibration certificate is also available online when you use www.kane.co.uk.
We also return your KANE FGA with another year's warranty if under 10 years old, with any items out of specification repaired or replaced.
We really do care about you, as well as your customers' safety, therefore please do not forget to get your analyser calibrated on the correct date. We have done everything we can to ensure it is as easy and cost effective for you to do so.
KANE CARE – The UK's best FGA calibration and recertification service